Fly Fishing Report for the Waters of the Pisgah National Forest, The Great Smoky Mountains National Park and waters along the Blue Ridge Parkway
Updated Every Thursday
Water Conditions:
Temp – 55-60
CFS – just above normal water levels
http://waterwatch.usgs.gov/?m=real&w=map&r=nc
Hatches:
Mayflies:
March Browns, Sulphurs/PMD's, Yellow Drakes, Light Cahills, some Green Drakes in the evenings on certain streams.
Caddis:
Tan , Black, Olive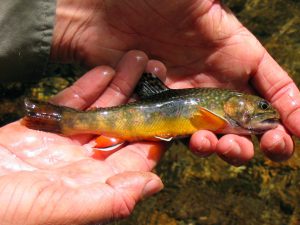 Stoneflies:
Little Yellow Sallies, Little Green Sallies, Golden Stones
Midges:
Assorted
Terrestrials:
Ants, Beetles, Crickets, Hoppers, Inchworms
Fly Suggestions: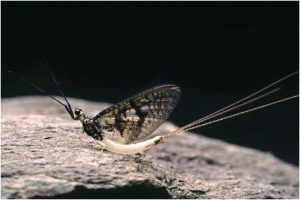 Dry Flies:
Parachute March Brown, Flick's March Brown, CDC Compardun Sulphur, Yellow Palmer, Yellow Mayfly Drake, Light Cahill, Green Drake Dun, Coffin Fly (Green Drake Spinner) Tan Headlight Caddis, Black Elk Hair Caddis, Yellow Sally, Tennessee Wulff, Yellow Para Madam X, Yellow Stimulator, Ants, Beetles, Crickets, Hoppers, Inchworms.
Nymphs and Pupa: Wiggle Nymph, Slate Drake Nymph, Olive Hare's Ear,  Tellico Nymph, Yallarhammer, Crow Fly, Tan Braid Pupa, Olive Grand Poopah, Boss Hog Light, Yellow Tungsten Copper Stone.
Streamers:
Spruce Fly, Hornberg, Muddler Minnow, various wooly buggers in medium size range.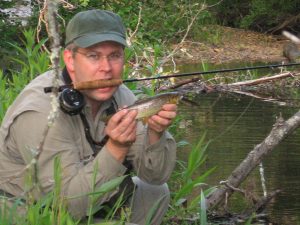 General Information:
When the Mountain Laurels start blooming, Green Drakes begin hatching followed by other Drakes such as Brown Drakes, and Slate Drakes as well. Look for Duns and Spinners. Duns start hatching sporadically after mid day and spinners are most active from two hours before sundown until dusk. Some of us enjoy sticking with the Southern Appalachian patterns for these hatches such as the Coffin Fly, Crow Fly, Yallerhamer, Corey's Calftail, the Yellow May, etc…
It is worth it to hike in for the opportunity to catch one of these hatches at it's peak. Consider putting in on the South Mills river and hike up a few miles or so. Focus on silty areas of the river for the drakes as they are burrowing mayflies and consider using a wiggle nymph as a dropper if you like. A great pack for backcountry fishing is the Fishpond Tundra or Piney Creek Tech Packs as they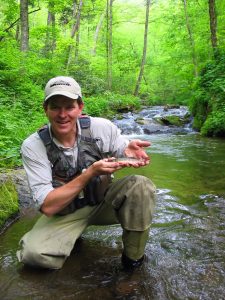 will hold all you need for a long day up a remote creek. Also, to make the hike in easier (and lighter), leave the waders and boots at home and wear some quick dry nylon hiking pants and pack in a pair of the Simms wading sandals with aluminum cleats. When you get to your destination just swap out your hiking boots for the sandals and jump right in!
Projected Conditions: 
Look for more of the same conditions next week with the help of a bit of rain mid-week to keep the streams cool and full. The Green Drake hatch will be on for another four weeks or so. Great fun with size 8 and 10 dry flies!