Report on the Waters of the Pisgah National Forest, The Great Smoky Mountains National Park and waters along the Blue Ridge Parkway
Updated Thursday
Water Conditions:
Temp – 58-64
CFS – very healthy, above water levels
http://waterwatch.usgs.gov/?m=real&w=map&r=nc
Hatches:
Mayflies:
Sulphurs/PMD's, Light Cahills, Chocolate Duns
Caddisflies:
Tan , Green, Yellow
Stoneflies: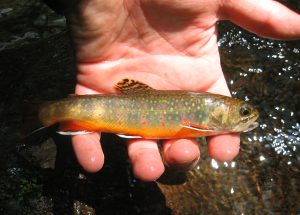 Little Yellow Sallies, Little Green Sallies, Golden Stones
Midges:
Assorted
Terrestrials:
Ants, Beetles, Crickets, Hoppers, Inchworms
Fly Suggestions:
Dry Flies:
Light Cahill Emerger, Light Cahill, Light Cahill Spinner, Hazel Creek, Pink Lady, CDC Comparadun Sulphur, Yellow Palmer, Yellow Humpy, Chartreuse Humpy, Brown Drake Spinner, Tan Headlight Caddis, Green Headlight Caddis, Yellow Elk Hair Caddis, Little Yellow Sally, Tennessee Wulff, Yellow Para Madam X, Lime Para Madam X, Yellow Stimulator, Ants, Beetles, Crickets, Hoppers, Inchworms
Nymphs and Pupa:
Copper John, Copper Blondie, Slate Drake Nymph, Mayfly Wiggle Nymph, Tellico Nymph, Yallarhammer, Crow Fly, Tan Braid Pupa, Olive Grand Poopah, Boss Hog Light, Yellow Tungsten Copper Stone
Streamers:
Muddler Minnow, Spruce Fly, Hornberg, various wooly buggers in medium size range.
General Information: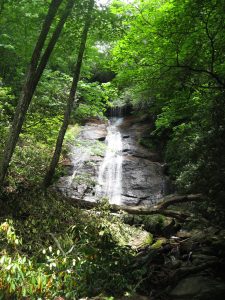 Discovering your own "secret" Brook Trout streams.
I find it much more rewarding when I discover a good stream through my own research – more so than having someone simply telling me where to go. Word of mouth creates more fishing pressure on most streams so it's not a bad thing for you to have a few streams "under the hat".
Great maps and map software to utilize are the DeLorme Gazetteer, National Geographic "Trails Illustrated" maps and National Geographic "Topo" map software.
Look for streams above 3000 feet with a natural barrier such as a high waterfall that have prevented Rainbows and Browns from migrating upstream. Any creek with springs will usually have cooler water temps and a bit better flow. There are a great number of opportunities for finding Brook Trout streams in the Great Smoky Mountains National Park as well as in the Pisgah and Nantahala National Forests.
Projected Conditions:
We received significant rainfall everyday this past week and have officially warded off a drought with a surplus of water in the streams. The hot weather has finally dissipated and looks to return to average summertime high air temps in the low to mid 80's. High altitude streams are holding temperature and mid altitude streams have cooled a bit. Nighttime water temp lows are averaging about 60 degrees. Look for sunny skies with some brief summer afternoon thunderstorms. Various evening hatches can be extraordinary on occasion.
Planning a fly fishing trip on the waters Western North Carolina?
Let the professional fly fishing guides from Curtis Wright Outfitters take you!