Updated Every Tuesday:    July 24th , 2012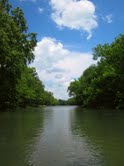 Water Conditions:  South Holston Release Schedule
Hatches: Sulphurs,  midges, and an occasional BWO will be the main fare on the Holston. The Watauga will add in caddis and crane flies, but the importance of terrestrials is not to be ignored.

Fly Suggestions: C0mparaduns in Sulphur and BWO, Crane Flies in Tan, Elk Hair Caddis (Tan, Yellow), Headlight Caddis (Tan, Green), Foam Hoppers, Glitter Ants (cinnamon, black), Cow Killer Ant, Thing-a-ma-bugs, Stomper Beetles (red, green), Copper Blondie's, Black Fly Larva, CW Midge Purple
General Information: Good wading flows are still happening on the Holston so get out early and hit the midge hatch in the fog and be ready for the sulphurs around noon. Don't feel you have to chase the risers during the hatch. Many of the bigger fish are hangging below the surface and feeding on another phase or even another bug. Remember longer leaders are a must on the Holston, whether dry fly fishing or nymphing. Long casts are not mandatory though. Pick a section of river and cover every inch of the run. You might be surprised at what was sitting beneath those risers. The Watauga has been fishing great with good numbers and some good size thrown in as well. When fishing the Watauga be prepared for dirty water as some of the feeder streams can really dump in the dirt sometimes.
Projected Conditions: We are going to have temperatures around the mid 80's to 90's this week so the tailwaters can be some of the best options this time of year. With the good cold water and the super healthy populations of fish, you are guaranteed some chances at some super quality fish! Want to see what it is all about?Let one of our professional guides show you the ropes either from a boat or wading. Don't miss out on the action!