Updated Every Tuesday:    August 7th, 2012
Water Conditions:  South Holston Release Schedule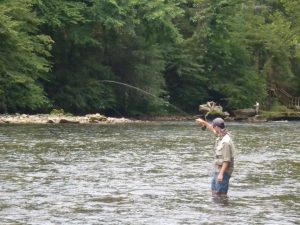 Hatches: The old regulars of Sulphurs on the Holston, and Caddis and Sulphurs on the Watauga. Midges will be moving most of the day with a higher concentration in the morning/evening hours. Scuds are also always present, and Terrestrial's are more abundant as well.
Fly Suggestions: Comparaduns in Sulphur and BWO, Headlight Caddis, Spotlight Emergers, Madam X's in Black and Lime,  Griffith's Gnat, Yellow Foam Hoppers, Hi Vis Beetles, Slammer Beetle's, Tungsten Z-Wing Caddis, Mighty May's, Scuds (Rainbow, Pink, Grey, Olive), PMD Split Cases.
General Information: With the most day generations on the Holston, midges are of major importance for those only looking to get their fishing in before the generation. For those looking to make a full day of it, get ready to do some jumping around. The Fishwater maps can help out with that tremendously. The hatches will be heavier in certain locations so keep your eyes open for feeding fish. The Watauga has been fishing great on our recent float trips and there is plenty of water and it is nice and COLD! Let us show you around! This is a great way to see a lot of water and to have a chance at some trophy fish without all the walking. Terrestrials have been working extremely well with some large fish waiting under trees and off of grassy fields.
Projected Conditions: Look for the conditions to stay similar over the next week hatch wise, and if the rain avoids us possible even some relaxed flows. With the Temps being like they have it can really take a toll on you and your skin being out in the wide open. Make sure to prepare for it with your Buff's and Suntan Lotion. Stop by one of our Shop's, we have something for everyone!